In Marseilles, recently, the management of the public space raises many debates and has been the subject of struggles for equality and respect for fundamental rights. The layout of the territory and recent events (collapse of several buildings), which combine serious housing problems with increasingly accelerated gentrification, revealed the pressure undergone by a large part of the population. The dichotomy between the management of space and the reality lived by most of people has reached such a degree creating such inequalities that the economist Philippe Langevin publicly asked a disturbing question: "Does Marseilles still exist?
As a result of 3 consultative meetings and in reference to this reflection, we have collectively decided to name our Hackcamp "Does Marseille still exist?". The Hackcamp tried, then, to bring elements of response to this deliberately provocative question.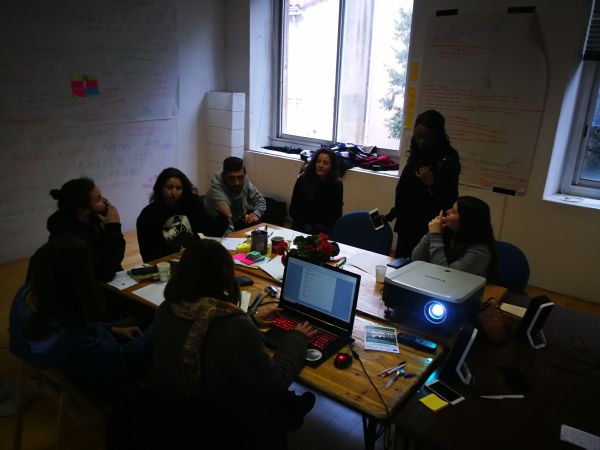 With its participatory format and by the issues it addresses, we considered it as an extension of the « General States of Marseille» and the week "Noailles standing – Noailles Again", two major civil rights movements, born in the current context.
The Hackcamp of Marseille took place from November 13th to 15th, in the premises of the Têtes de lart. During 3 days, 70 young people but also local media such as Radio Foresta, Primitivi, Télé Mouche, Tabasco, 15-38 Mediterranean, BaBelsunce, Boulègue, and specialist of the Right to the city as Alain Barlatier, anthropologists of the blog "After the "collapse" or the "Museum Street" operation, architects and artists have been exchanging point of view, experiences and ideas around one purpose: generate proposals for actions that could change their right to the city.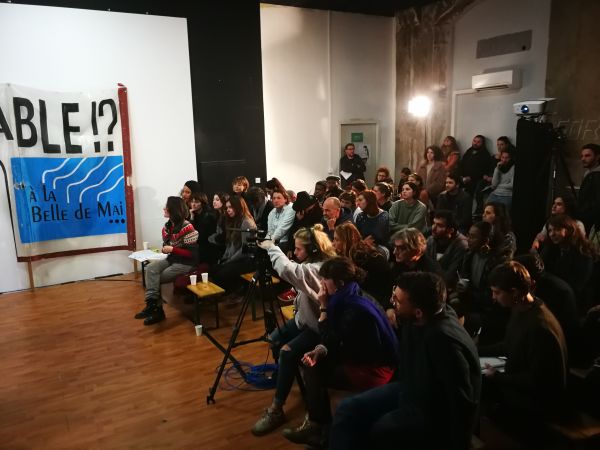 Young participants were divided in 4 tables facilitated by one representative of a participative media and at least one activist specialised in the subject matter. Distributed in 4 tables, young activists, media profesional and specialists of the different topics covered, participated in workshops facilitated through collective intelligence tools. Each table, acting like a little co-creation lab, had to follow a 4 steps debate methods that led them to make concrete and original proposals for action:
Establishing first reflections based on the context and the personal experience. Provide concrete examples to pose the problem (from film extracts, radio interviews, photos, etc. ) Share the participants' experiences to identify the problems they would like to act on.
Identifying and ranking challenges Identify what we want to act on, choosing a particular issue on which we will make proposals for action. What do we want to act on? Why do we think it is a priority?
Moving from the idea of a challenge to a real action. Propose concrete actions to raise awareness, to highlight the problems identified.
Creating a prototype Structure our proposals for actions making a prototype using our knowledge of the media. Its actions should be as feasible as possible, since they can be taken up again later within the framework of The Right to the City Lab. To finish the hackcamp, and as the result of the three days of common reflection, each table presented different kind of projects with different format (video, web pages, performances) that were publicly presented during a participatory live TV show organised by young participant with the help of visual arts professionals.
The work, debates and finally outputs of each table could be resumed as follow:
Table 1. Marseille without you? / Public and private space This group worked on how to considerate the public space as an inclusive space. Actually, they focused on the Noailles inhabitants issues who suffered from the collapses on last November. Their proposal was to create a dialogue and meeting space in the neigbourhood to help people who wants to make proposals being heard by political leaders.
Table 2. Marseille breathing/ Environment Table 2 focused on environmental and air pollution issues. They proposed to create an interactive map which lists the different experiences and testimonies of the inhabitants in relation to this problem.
Table 3. Marseille with no roof/ Right to housing To respond to the many housing and unsanitary issues in Marseille, the group 3 proposed to create a citizen platform. It would gather all the tools available to help people who suffer from those problems.
Table 4. Labeld Marseille ? Live together and gentrification At table 4, young people focused on the actual gap between the labeled and gentrified city and the reality experienced by its inhabitants. To raise awareness on this subject, they proposed to create a false event agency with a web page which consists in a funny way of twisting the meaning of the slogans disseminated by the local authorities. This way they pretended to bring out their inconsistencies.
Concerned and creative, the young people, activists and media have provided quality and innovative work, which proves to us that "Marseille still exists", in different forms, not always those expected, which is a good news!