It is hard for anyone under 40 to remember a time when people didn't want to be in cities. When property prices and rents weren't inexorably rising. When cities weren't the centre of dynamic culture and innovation with continuously improving public transport, sucking in graduates, students, investor's capital and tourists.
But for many city-dwellers in Europe, this success has become a problem. The organisation of population pressure by market forces, light touch-regulation and highly speculative investment have seen poorer people pushed into ever-smaller corners of their neighbourhoods, or out of the city entirely. For the directly affected and those-who-could-be cities are struggling to provide a place that feels like home.
Right to the City activism is the response to this displacement from homes and public spaces, and the context for this project.
In Seville, ZEMOS98 are supporting activists addressing the destabilising impact of tourism on city life. In Marseille, Les Tetes de l'Art have been supporting young activists concerned that the dilapidated housing will be used as a pretext to sell-off large parts of the city centre. In Zagreb. Kursiv is with working young journalist concerned about the lack of accountability in big planning decisions. In Warsaw, Krytyka Polityczna are trying to work out how to decarbonise the economy without adding to processes of urban displacement. And in Botkyrka, a Stockholm suburb, Fanzingo are looking at how to address the exclusion of different identity-groups from public spaces.
A central challenge for each of these groups is how to bring slow, subtle and arcane processes of displacement to life. That's why each group is placing media and media-making at the heart of their strategy - we call it mediactivism.
When we started this project the issues of displacement in cities seemed to be moving to the centre of city and national politics. For the last five years, city leaders have looked with interest to Barcelona, where Ada Colau's administration has pursued policies to reduce the impact of tourism on the city. In February, Sinn Fein won an election in Ireland on a promise to massively increase social housing and support private renters (mostly living in cities). Earlier this year the Berlin city government passed legislation which will freeze rents in the city for five years. In London, the city administration has been experimenting with 'creative enterprise zones' that aim to protect artists and creative organisations with affordable workspaces.
But now, of course, everything has changed. It seemed like nothing could alter the course cities were on, but the triple-hit of; (a) the virus itself, (b) the measures taken to address it and (c) the economic consequences will, in the short (and maybe the long-run), profoundly change the experience of living in cities. Michael Kimmelman, the NY times architecture critic diagnoses the problem with crushing simplicity: 'pandemics are anti-urban preying on our desire for human connection'.
For us though, the question is what effects could this anti-urban force have on those who campaign for Right to the City issues? Here are three that are coming into view.
A time for caring
When politician's tell us that we're 'in this together' it's rarely true, but aspects of covid-19 measures have temporarily levelled some imbalances. Everyone now knows what it feels like to be excluded from public space - we should all have more empathy for teenagers, the disabled and groups more likely to be targeted by the police. And even if that seems far-fetched, everyone knows who does 'key' work now - regardless of how badly paid it was. We might not be 'in this together' in-the-same way, but in some ways we are more together, than we were.
In upheavals like this people are often quick to quote Churchill's adage about not letting a good crisis go to waste. But perhaps the thing not to waste is people's desire to care for each other. We can leave the crisis for Blackstone. In the same way that the emotional response to 9/11 created an opportunity for politicians to do something aggressive, it seems that the collective emotional response to covid-19 creates the opportunity for them to do something caring.
In Britain one survey by the Royal Society of Arts claims that 'only 9% of Britons want life to 'go back to normal'. Perhaps sensing the opportunity in Edinburgh the CTZN network, who are concerned about gentrification, over-tourism and public space issues are calling on people living across the city to write a manifesto for its future. Versions of this kind of thinking are everywhere. Amsterdam has announced its plan to pursue the 'doughnut' model of sustainable development as the starting point of all political decisions. Locally and nationally basic income activists are emboldened by the news that Spain is about to introduce (a very limited) version of the policy.
A clearer argument for public space
Public space is a central concern for Right to the City activists. As countries around Europe ease restrictions it seems that city administrations will be encouraging us to spend more time outdoors, where it will be harder for the virus to transmit. This will change the character of roads and public spaces. Paris has announced plans to create 650km of new cycle paths, Milan wants to pedestrianise 35km of street, Barcelona is widening walkways, while the mayor of Vilinius has announced his intention to make it Europe's first 'outdoor city' and has removed charges for cafe owners who wish to place tables and chairs outside.
In the short-run this seems like a way to resolve what Jack Shenker, writing in the Guardian, calles 'the apparent tension between densification – the push towards cities becoming more concentrated, which is seen as essential to improving environmental sustainability – and disaggregation, the separating out of populations, which is one of the key tools currently being used to hold back infection transmission.'
A pessimistic reading of this would see Covid-19 as a land grab on public space by cafe's, restaurants and bars - something, which Right to the City activists are already concerned about in some cities. But maybe this moment will embolden activists who are demanding greater access to spaces in cities. In London where I live there are now strong voices calling for a right to walk on golf courses (there are 131 in the Greater London conurbation) and to use the playing fields of (what are often private) schools in the city. Surely there has never been a better time to make the moral case for public access to privately owned land.
After detouristification
Skyscanner's best flight from London to Seville for May 10th involves an 18hr journey with a stop over in Tenerife. The return takes longer and involves three legs via Barcelona, Gdansk, Warsaw. This photo archiving project is collecting a record of the desolate emptiness of public spaces in Europe's main urban tourism destinations.
The power of airbnb and other digital technologies to transform whole neighbourhoods into tourist accommodation has been stopped in its tracks. But it will also devastate cities in southern Europe who pivoted towards the tourism economy after the 2008 financial crisis. The reflex action of city administrations seems to be to consider how to keep the tourists coming: the city government in Seville has recently approved a €2m budget to redesign the city's tourism brand. Fast Company magazine has reported on cities' interest in developing virtual reality tourism.
But perhaps in the same way that countries scrambling to secure personal protective equipment and manufacture ventilators are questioning the vulnerability of their supply chains, perhaps now city authorities who have pursued tourism, to the exclusion of other goals, will now question the wisdom of their strategy. It may not be the opportunity that they wanted, but city authorities will now have a chance to change course.
Mediactivism now!
One of the most noticeable aspects of the last two months is the way they have rearranged the way we receive information from governments. It's strange to wake from a world where politicians ignored old media and projected their own version of the truth, to one where scientific evidence rules our lives and is metered out to us at news conferences and disseminated by trusted news organisations, who check facts. However, in these disorientating times - especially as the shutdown is relaxed - it will become harder to distinguish between what will collectively be seen as a necessary requirement and what will be viewed as a political choice. A return to politicians forming echo-chambers with their supporters combined with the new life-or-death stakes of political decision making would make for something quite nightmarish.
And of course, the aftermath of Covid-19 could turbo-charge displacement. Private equity funds buying up cut price real estate working with city governments already willing to use the lockdown to push through controversial construction projects would surely exacerbate spatial and financial inequality in cities. Especially if rented accomodation continues to be poorly regulated and the wages of people in the hand-to-mouth economy are bargained down further.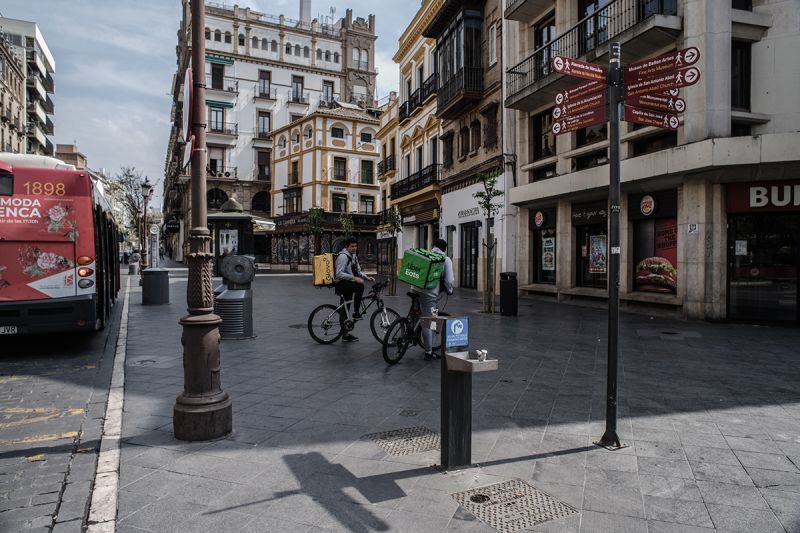 Although we cannot yet know what the future holds for cities, it will no doubt be in cities where the political trade-offs involved in constructing a new urban normality will be most visible. We will need Right to the City activists - with an imaginative approach to media-making - to bring them into view.
Article written by Charlie Tims, cultural researcher and MediActivism knowledge manager
Cover Picture: Dimitry B on Unsplash.
Photographs: Jose Luis Tirado. Get in contact with him through his website for any petition regarding the pictures.