Goal: to create a Caring City Map visualizing common topics, challenges, and tools related to the right to the city.
Members of this group: Toni Arribas (facilitator), Claudia Delso, Magid Magid, Helena Rojas, Natalija Stojmenović, Guillermo Zapata, Luis Lineo, Nicolas Mémain and Samuel Wahl.
The outputs
The group was mostly formed by policymakers concerned about the right to the city topics in their daily work. And we have to say they talk. They talk a lot! That is why they started debating on the characteristics and elements that a Caring City should have. As a result of the three sessions, they produced two different prototypes: on the one hand, a Map of how they believe a Caring City might look; on the other hand, a tool to design your own caring city, with different steps to identify good caring practices.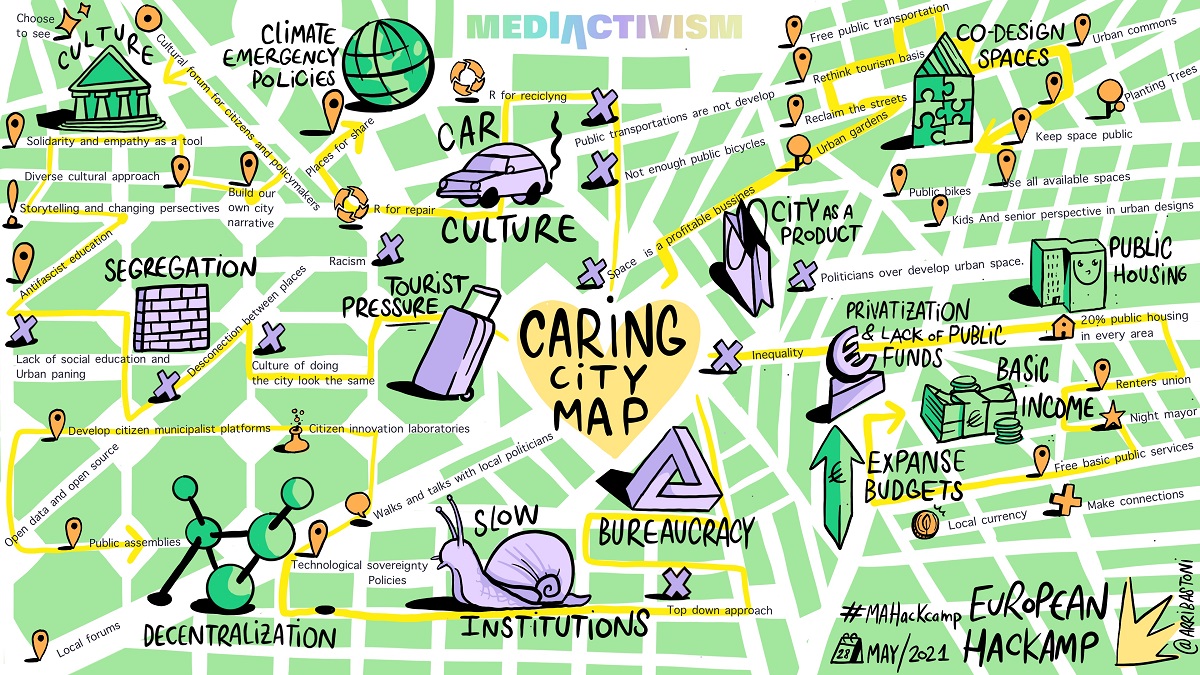 Their Caring City Map reflects different levels:
Desirable and good practices for a caring city, including those values to be taken into account.
Problems and difficulties that could appear in a caring city development (in purple) and different proposals to fix them.
This prototype can be replicated and adapted for every different city, taking into account its local characteristics.
All materials available here.
License: CC-BY-SA. Feel free to share, use and hack this prototype!
Below is the presentation of the results. You can see how the participants of this table explained their process at the MediActivism European Hackcamp.